By Anam, participant of Session 1&2&3, from USA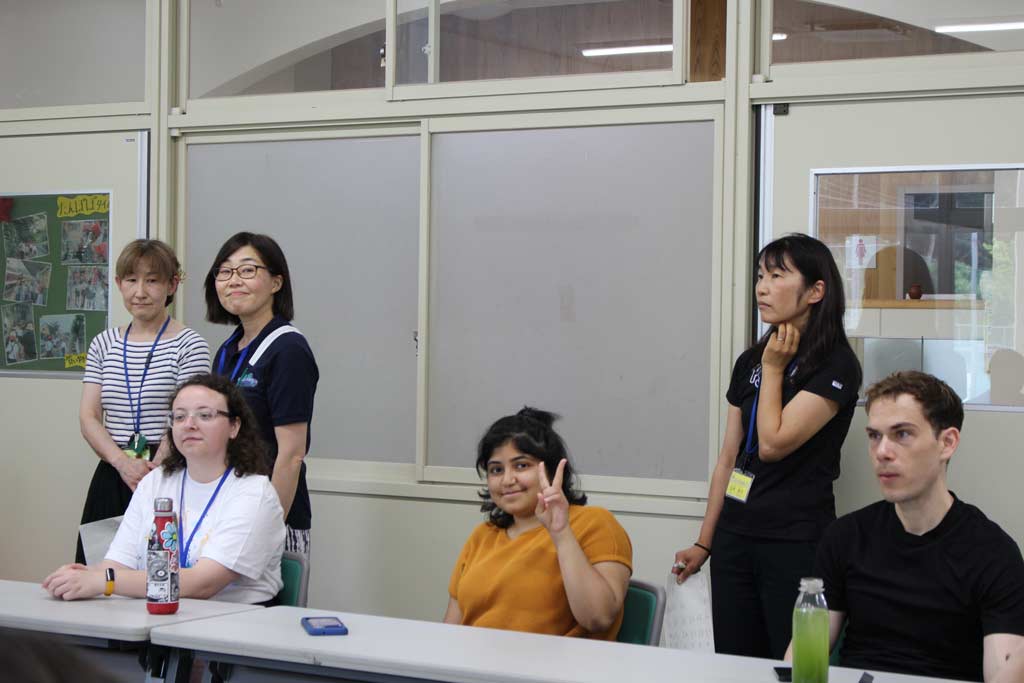 Today we visited the elementary school students of Muroo, Nara. The children of this quaint town had so much energy! First, we greeted them with presentations of our home countries. Then, the students introduced us to the festival of Tanabata through a fun trivia game. Afterwards, we divided into groups and helped them put their wishes on a bamboo tree. Some of us had to pick up the students so they could reach the branches. My group was full of eager eyed sixth graders.
The participants followed their respective groups into their classroom to see what their everyday school day was like. The sixth graders I was with were starting their English class; they were a bit shy at first but one by one they began to introduce themselves – granted the first introduction was done through an intense game of "Rock Paper Scissors". I recall one student practically jumping out of his seat ready to introduce himself as soon as he saw the others doing so. When they were less tense, we began a game of Charades. To practice their English, they wrote the names of the animals in English only. I will never forget one of the counselors acting like a monkey for them and how much they warmed up afterwards. We had lunch together – a meal of rice, miso soup, beans, potatoes with meat, and a carton of milk. I felt like I was back at my first day of school again. After lunch, we headed downstairs for a very invigorating game of dodgeball.
With an intense school day coming to a conclusion, we bid farewell to the students and made our way to Renshoji temple. The temple was originally constructed in 1650 A.D, but was moved to Muroo about 100 years ago. The 19th generation priest led us to first properly greet the Buddha statue by saying a quick prayer and bowing. Then, he led us to a traditional tatami room where we sat on beautiful, red silken cushions. He taught us the proper meditation position before guiding us into Zen Meditation. Personally, I enjoyed this aspect. I could feel the breeze coming from the open slide doors and felt my breath a lot more. The priest came around and lightly hit everyone in the back with a stick six times. He explained three reasons for this: motivation, fixing our posture, or for no reason at all. It was up to us to reflect upon why he did so. Towards the end, however, I began to feel my feet go numb. I was quite relieved when the priest rang the bell twice so I could relax. We discussed the purpose of this special meditation and how it led us to enlightenment over wheat tea and cinnamon snacks. Wrapping up the session, we thanked the priest for allowing us into the temple and I was one of the lucky few who got to ring the large bell outside. Bowing goodbye, we headed to the Shinko Center.
At the Shinko Center, we had our wrap up meeting. I began to feel emotional, as this was the end of Session 1. Our host families hosted a lovely potluck for us as a way for us to spend our last time as a group together. My host mother, who was also head of Muroo's LOC, explained that the reason we had these potlucks was due to how small Uda is. There are no grocery stores, restaurants, or any large businesses nearby. It was a good way for everyone in the city to bond. I understood this feeling, as I was able to bond with some of the other host families and other participants. The potluck was a wonderful way to end the first session and yet I felt so teary eyed knowing I would have to say goodbye to some amazing people.